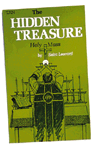 The Hidden Treasure
Holy Mass
By: St. Leonard of Port Maurice
The Hidden Treasure. This book describes the great spiritual power of the Mass, how it holds back the wrath of God, its wonderful eternal and temporal benefits and several excellent ways to pray at Mass. Hidden Treasure is the prototype book on the Mass for all other books on the same subject; others basically repeat what this small book contains. Impr. 123 pgs, PB
No. 0111.
ISBN: 9780895550361
Sale Price $8.95
MASS AND THE EUCHARIST (Books and Videos)
EUCHARISTIC MIRACLES by Joan Carroll Cruz
THE BLESSED EUCHARIST by Fr. Faber
THE BLESSED SACRAMENT by Fr. Faber
THE CATHOLIC SANCTUARY and The Second Vatican Council By Michael Davies
THE GREAT SACRILEGE by Fr. James F. Wathen, O.S.J.
THE HIDDEN TREASURE-HOLY MASS by St. Leonard of Port Maurice (1676-1751)
THE HOLY EUCHARIST by St. Alphonsus Liguori
THE HOLY SACRIFICE OF THE MASS by Fr. Michael Muller
HOW CHRIST SAID THE FIRST MASS by James L. Meagher, D.D.
I WAIT FOR YOU Jesus' Lament over Man's Indifference by Sr. Josefa Menendez
LITURGICAL SHIPWRECK by Michael Davies
THE INCREDIBLE CATHOLIC MASS AN EXPLANATION OF THE MASS by Fr. Martin von Cochem, O.S.F.
MOMENTS DIVINE BEFORE THE BLESSED SACRAMENT by Fr. Frederick A. Reuter, K.C.B.S.
A NOVENA OF HOLY COMMUNIONS by Fr. Lawrence Lovasik
THE OTTAVIANI INTERVENTION A SHORT CRITICAL STUDY OF THE NEW ORDER OF MASS by Ottaviani & Bacci
THE PROBLEMS WITH THE PRAYERS OF THE MODERN MASS by Fr. Anthony Cekada
THE PROBLEMS WITH THE NEW MASS by Rama P. Coomaraswamy, M.D.
A SHORT HISTORY OF THE ROMAN MASS by Michael Davies
THE TWO DIVINE PROMISES by Fr. Hoppe
THE WONDERS OF THE MASS by Fr. Paul O'Sullivan, O.P.
ST. MICHAEL AND THE ANGELS, Anonymous
EUCHARIST QUIZZES by Frs. Rumble and Carty
MASS AND THE SACRAMENTS A COURSE IN RELIGION BOOK II by Fr. John Laux, M.A.
I Am Your Jesus of Mercy - All 6 Volumes by the Riehle Foundation
HLI Pro-Life Material - Pro-life Books, Audio CDs, DVDs and Videos
Prophecy of Bible
Jeremias - 5:31. The noise is come even to the ends of the earth: for the Lord entereth into judgment with the nations: he entereth into judgment with all flesh; the wicked I have delivered up to the sword, saith the Lord. - 25:32. Thus saith the Lord of hosts: Behold evil shall go forth from nation to nation: and a great whirlwind shall go forth from the ends of the earth. - 25:33. And the slain of the Lord shall be at that day from one end of the earth even to the other end thereof: they shall not be lamented, and they shall not be gathered up, nor buried: they shall lie as dung upon the face of the earth.
Pro-Life Videos
Pro-Life Books
Dr. Bernard Nathanson
Social Issues Documentary Videos
Creation vs Evolution
The Creature from Jekyll Island
Devil - Satan
Freemasonry
Gods of the New Age
Prophecy
Rock Music, MTV, Hollywood and Satan

Bestselling Catholic Videos in English and Spanish Languages:
From San Giovanni to Heaven - New Video on Canonization of Padre Pio
The Beatification of Padre Pio (NewVideo)
The Life of Sister Faustina - The Apostle of Divine Mercy
Spanish Edition - La Historia De Sor Faustina
Sister Faustina - The Promise of Mercy
The Beatification of Sister Faustina - Join the Celebration
A Celebration of Padre Pio - Pray, Hope, and Don't Worry
Spanish Edition - Homenaje Al Padre Pio
Padre Pio - At The Gates of Heaven
Padre Pio's San Giovanni - "I Can Refuse No One"
Medjugorje - The Miracles and The Message

The Passion of Christ - DVD - Movie of Mel Gibson
THE BOOK OF DESTINY - Book By Fr. H.B. Kramer
CATHOLIC PROPHECY THE COMING CHASTISEMENT By Yves Dupont
FORTY DREAMS OF ST. JOHN BOSCO By St. John Bosco
HISTORY OF ANTICHRIST By Fr. P. Huchede
LIFE OF ANNE CATHERINE EMMERICH By V. Rev. C. E. Schmoeger, C.SS.R.
THE PROPHECIES OF ST. MALACHY
PROPHECY FOR TODAY By Edward Connor (compiler)
THE PROPHETS AND OUR TIMES By Fr. R. Gerald Culleton
THE REIGN OF ANTICHRIST By Fr. R. Gerald Culleton
Divine Mercy and Sr. Faustina
Padre Pio (Videos)
Medjugorje - The Queen of Peace (Videos, Books and Audio Tapes)
Prophecy of The Third Secret of Fatima
The Kingdom of the Bride
"Life is good, enjoy it while you can"
Rafael Brom
Original Songs and Music
Photos from movie "The Passion of the Christ" directed by Mel Gibson
BIBLES
Text of The Third Secret of Fatima - Complete Report
Books and Videos on Padre Pio
Videos and Books on Sr. Faustina and Divine Mercy plus Diary of Sr. Faustina
CATHOLIC BIBLES (Family Bibles, Spanish Bibles, Church, School and Study Bible Edidions) FBP
Bishop Fulton Sheen - Audio CD, Videos and Books
THE DOUAY-RHEIMS BIBLE
Why Should You Read Only the Douay-Rheims Translation of the Bible-
Home Page / Statues / Crucifixes / Catholic Resources / Catholic Videos / Catholic Books / Catholic Audio Tapes / Christian Music / Catholic News / Angels / Anti-Semitism / Animated 1 / Animated 2 / Animated - The New Testament / Animated - The Old Testament / Apparitions of Blessed Virgin Mary / Apologetics / Art Gallery / Audio Tapes / The Beatification of Padre Pio / Hilaire Belloc / Bible / Bibles / Books on Bible / Bishop Fulton Sheen / Books / Books on Divine Mercy / A Catholic Theme Park / Children and Youth - Animated / Church Documents / Church History / Creation vs Evolution / The Creature from Jekyll Island / Devil - Satan / Catholic Family Resources / Divine Mercy / Diary of Sister Faustina / Dr. Bernard Nathanson / Errors - Problems of Modern Times / Eucharist and the Mass / Family and Marriage / Fr. Aloysius Ellacuria / Freemasonry / Garabandal / Gifts / Gods of the New Age / Global Tyranny / Health / Hell, Heaven and Purgatory / Home Schooling / John Paul II Collection / Joan of Arc / Journeys of the Soul / Latest Message / Marianland / Marian / Marian Videos / Mariology / Charismatic / Marx and Satan / Medjugorje Miracles and the Message / Miracles in Catholic Church / Money System / Mother Teresa / Music / MP3 - Free Music Downloads / Yoga (The New Age) / One World Government / Padre Pio (Videos) / Padre Pio (Books) / Pious Publications / The Priesthood / Pro-Life Videos / Pro-Life Books / Prophecy / Prophecy of The Third Secret of Fatima / Rafael's Art Gallery / Prof. Libor Brom / Religious Education-Adult / Religious Education-Grade School / Religious Education - High School / Rock Music, MTV, Hollywood and Satan / ROSARY / Saints Part 1 / Saints Part 2 / Saints Part 3 / St. Patrick: Apostle of Ireland / Scott Hahn, Kimberly Hahn and Bishop Sheen / Shocking Videos / Spanish Videos / Spiritual Life / Sr. Faustina / Stigmata and Stigmatists / Theology / True Church and Bible / The UN's Crusade Against God and Family / Vatican II / Videos - Main Section / J. Paddy Nolan / Wayne Weible - Medjugorje Apparitions - Medjugorje / Latest news / Sin and Repentance / Fr. Faber / Marian Videos and DVDs as Seen on EWTN - Catholic TV Network of Mother Angelica / Mother Teresa /