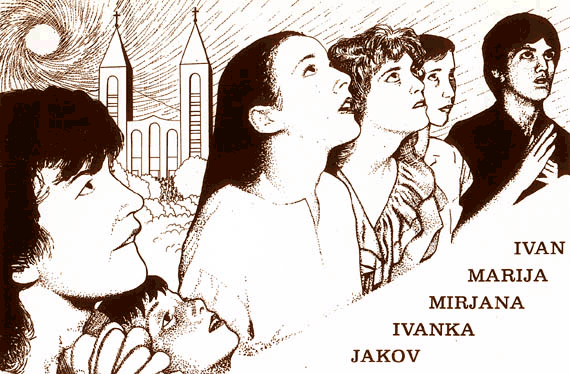 Visionaries of Medjugorje:
Vicka, Jakov, Ivanka, Mirjana, Marija and Ivan
( Illustration by Rafael Brom )
Latest Message to the World from Our Lady the Queen of Peace in Medjugorje - Message, July 25, 2017
September 25, 2017 Message to Marija
"Dear children! I am calling you to be generous in renunciation, fasting and prayer for all those who are in temptation, and are your brothers and sisters. In a special way I am imploring you to pray for priests and for all the consecrated, that they may love Jesus still more fervently; that the Holy Spirit may fill their hearts with joy; that they may witness Heaven and Heavenly mysteries. Many souls are in sin, because there are not those who sacrifice themselves and pray for their conversion. I am with you and am praying that your hearts may be filled with joy. Thank you for having responded to my call."
Satanic Screaming During Apparitions in Medjugorje - 2017
Rykov, Lenin's successor in the Council of Soviet Commissars, corroborated: "It is our duty to inculcate in the minds of nations the theories of international friendship, pacifism, and disarmament, encouraging their resistance to military appropriations and training, without ever relaxing our own efforts in building our military equipment.''
Manuilsky, a prominent Soviet professor at the School of Political Warfare, said: "The bourgeoisie will have to be put to sleep. We shall begin by Launching the most spectacular peace movement on record. There will be electrifying overtures and unheard-of concessions. The capitalist countries, stupid and decadent, will rejoice to cooperate in their own destruction. They will leap at another chance to be friends."
And Khrushchev, a more contemporary Soviet prime minister, said: "We cannot expect Americans to jump from capitalism to Communism, but we can assist their elected leaders in giving Americans doses of socialism until they suddenly awake to find out they have Communism.''
Shocking: Russian KGB Mind Control Technology involved in Medjugorje Apparitions?
World-Famous Physicist Drops Bombshell "God" Discovery… Atheists Will NOT Like This
OFFICIAL MEDJUGORJE REPORT RELEASED: SERIOUS DOUBTS ABOUT AUTHENTICITY
MEDJUGORJE BISHOP: APPARITIONS NOT CREDIBLE
POPE SKEPTICAL ABOUT MEDJUGORJE
The Vatican has prohibited the alleged visionaries from spreading their "messages"
CDF reportedly judges Medjugorje apparitions false, but permits pilgrimage
Shocking: Russian KGB Mind Control Technology involved in Medjugorje Apparitions?
THE BLESSED VIRGIN MARY IN FATIMA GAVE MESSAGE OF WARNING:
God had chosen to use Russia as the instrument of chastisement to punish the world ... Russia will spread her errors throughout the world raising up wars and persecutions against the Church, the good will be martyred, the Holy Father will have much to suffer, various nations will be annihilated.
"Every nation has the government it deserves." - Joseph de Maitre, Letter to X, 1811
More on MARXIST FUNDAMENTALS by Prof. Libor Brom

Is "Climate Change" or "Global Warming" Coming from Man or from God?
Prophecy of St. Peter
World will be Chastised by Fire
2 Peter 3
(Catholic Douay-Rheims Bible):
3 - Knowing this first, that in the last days there shall come deceitful scoffers, walking after their own lusts.
4 - Saying: Where is his promise or his coming? for since the time that the fathers slept, all things continue as they were from the beginning of the creation.
5 - For this they are wilfully ignorant of, that the heavens were before, and the earth out of water, and through water, consisting by the word of God.
6 - Whereby the world that then was, being overflowed with water, perished.
7 - But the heavens and the earth which are now, by the same word are kept in store, reserved unto fire against the day of judgment and perdition of the ungodly men.
8 - But of this one thing be not ignorant, my beloved, that one day with the Lord is as a thousand years, and a thousand years as one day.
9 - The Lord delayeth not his promise, as some imagine, but dealeth patiently for your sake, not willing that any should perish, but that all should return to penance.
10 - But the day of the Lord shall come as a thief, in which the heavens shall pass away with great violence, and the elements shall be melted with heat, and the earth and the works which are in it, shall be burnt up.
11 - Seeing then that all these things are to be dissolved, what manner of people ought you to be in holy conversation and godliness?
12 - Looking for and hasting unto the coming of the day of the Lord, by which the heavens being on fire shall be dissolved, and the elements shall melt with the burning heat?
( 2 Peter 3 )
Prophecy of St. Peter - World will be Chastised by Fire
"Fire Will Fall From Heaven" by Sr. Agnes Sasagawa
(Apparitions in Akita, Japan)
"Who is a liar but he that denieth that Jesus is the Christ? He is antichrist, that denieth the Father and the Son." (1 John 2:22)
"and every spirit that does not confess that Jesus Christ has come in the flesh is not of God. And this is the spirit of the Antichrist, which you have heard was coming, and is now already in the world" (1 John 4:3)
"For many deceivers have gone out into the world who do not confess Jesus Christ as coming in the flesh. This is a deceiver and an antichrist" (2 John 1:7)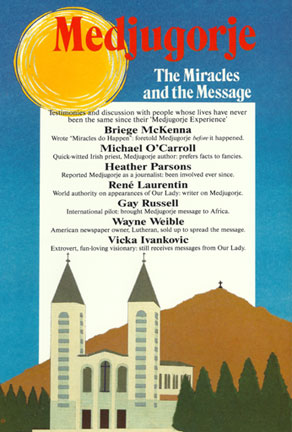 DVD - Medjugorje: The Miracles and The Message
An objective look on alleged apparitions at Medjugorje by
Award-winning British film director, J. Paddy Nolan
(Playable in all regions of the world)
Before starting his production in Medjugorje, the Director asked Vicka, one of the visionaries, what kind of film she thought Our Lady would like him to make. And Vicka answered, "Our Lady will show you." A comprehensive update of the Medjugorje story. "...serious... significant... different... professional... excellent... suprising... informative... Revealing interviews with world-renowned authorities whose lives have not been the same since their "Medjugorje Experience." - Sister Briege McKenna; Father Michael O'Carroll; Wayne Weible - Medjugorje Apparitions - Medjugorje; Gay Russell; Heather Parsons; Abbe Rene Laurentin; Vicka Ivankovic. The attitude of the Pope and the Church about apparitions is examined. See the sun-spinning phenomenon with testimonies from people who have witnessed it. MEDJUGORJE - THE MIRACLES AND THE MESSAGES was written and directed by award-winning British director, J. Paddy Nolan. (As Seen on EWTN of Mother Angelica).
Sr. Briege McKenna "What we saw was the sun coming at us and spinning like a wheel, and then we saw the crucifix disappear".
Wayne Weible ""It was simply as if someone had spoken to me and the message they had given me, I knew, was from The Blessed Virgin".
The Blessed Virgin Mary has reportedly been appearing to six young people in Bosnia and Hercegovina (former Yugoslavia), since 1981. Throughout the period since the Blessed Virgin first appeared to them, the visionaries claim to have received specific information and teaching from her. The Madonna has repeatedly told the children that the world is on the brink of a major catastrophe. She pleads with us to believe that the great catastrophe facing us can only be turned away through prayer, fasting, and penance. The Virgin has repeatedly stated that sin is what causes the lack of peace in the world; and that as long as man continues to ignore God, we will never have peace.
80 minutes DVD - Price: $24.95
How to order this DVD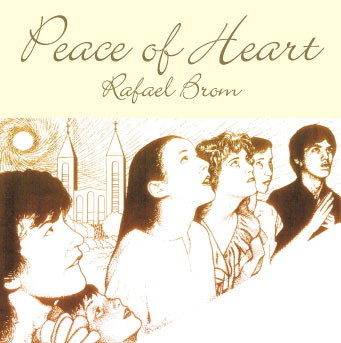 "Peace of Heart"
Record Album on the Queen of Peace and Medjugorje by Rafael Brom
Released on Cosmotone Records / Cosmotone Music (ASCAP)
An Evening with an Exorcist - Fr. Thomas Euteneuer
Full Text of the Third Secret of Fatima not revealed?
In a 1980 interview for the German magazine Stimme des Glaubens published in October 1981, John Paul II was asked explicitly to speak about the third secret. He said: "Because of the seriousness of its contents, in order not to encourage the world wide power of Communism to carry out certain coups, my predecessors in the chair of Peter have diplomatically preferred to withhold its publication. On the other hand, it should be sufficient for all Christians to know this much: if there is a message in which it is said that the oceans will flood entire sections of the earth; that, from one moment to the other, millions of people will perish... there is no longer any point in really wanting to publish this secret message. Many want to know merely out of curiosity, or because of their taste for sensationalism, but they forget that 'to know' implies for them a responsibility. It is dangerous to want to satisfy one's curiosity only, if one is convinced that we can do nothing against a catastrophe that has been predicted." He held up his rosary and stated "Here is the remedy against this evil. Pray, pray and ask for nothing else. Put everything in the hands of the Mother of God." Asked what would happen in the Church, he said: "We must be prepared to undergo great trials in the not-too-distant future; trials that will require us to be ready to give up even our lives, and a total gift of self to Christ and for Christ. Through your prayers and mine, it is possible to alleviate this tribulation, but it is no longer possible to avert it, because it is only in this way that the Church can be effectively renewed. How many times, indeed, has the renewal of the Church been effected in blood? This time, again, it will not be otherwise. We must be strong, we must prepare ourselves, we must entrust ourselves to Christ and to His holy Mother, and we must be attentive, very attentive, to the prayer of the Rosary.
Lúcia herself is reported to have explicitly stated that the Third Secret contains Apocalyptic content. According to one source, when Lúcia was asked about the Third Secret, she said it was "in the Gospels and in the Apocalypse", and at one point she had even specified Apocalypse chapters 8 to 13, a range that includes Apocalypse 12:4, the chapter and verse cited by Pope John Paul II in his homily in Fatima on 13 May 2000.
A news article quoted former Philippine ambassador to the Vatican, Howard Dee, as saying that Cardinal Ratzinger had personally confirmed to him that the messages of Akita and Fatima are "essentially the same."
A TERRIBLE WARNING - THE MESSAGE OF OUR LADY OF AKITA, JAPAN: The third message on October 13, 1973, the actual anniversary of the final visions and miracle of Fatima is as follows: "As I told you, if men do not repent and better themselves, the Father will inflict a terrible punishment on all humanity. It will be a punishment greater than the deluge, such as one will never have seen before. Fire will fall from the sky and will wipe out a great part of humanity, the good as well as the bad, sparing neither priests nor faithful. The survivors will find themselves so desolate that they will envy the dead. The only arms which will remain for you will be the Rosary and the Sign left by my Son. Each day, recite the prayers of the Rosary. With the Rosary, pray for the Pope, the bishops and the priests. The work of the devil will infiltrate even into the Church in such a way that one will see cardinals opposing cardinals, and bishops against other bishops. The priests who venerate me will be scorned and opposed by their Confreres. The Church and altars will be vandalized. The Church will be full of those who accept compromises and the demon will press many priests and consecrated souls to leave the service of the Lord.
From Congregation for the Doctrine of the Faith in Vatican
Text of The Third Secret of Fatima:
COMPLETE TRANSLATION OF ORIGINAL TEXT
VATICAN CITY, JUN 26, 2000 (VIS) - Given below is the complete translation of the original Portuguese text of the third part of the secret of Fatima, revealed to the three shepherd children at Cova da Iria-Fatima on July 13, 1917, and committed to paper by Sr. Lucia on January 3, 1944:
"I write in obedience to you, my God, who command me to do so through his Excellency the Bishop of Leiria and through your Most Holy Mother and mine.
"After the two parts which I have already explained, at the left of Our Lady and a little above, we saw an Angel with a flaming sword in his left hand; flashing, it gave out flames that looked as though they would set the world on fire; but they died out in contact with the splendor that Our Lady radiated towards him from her right hand: pointing to the earth with his right hand, the Angel cried out in a loud voice: 'Penance, Penance, Penance!'. And we saw in an immense light that is God: 'something similar to how people appear in a mirror when they pass in front of it' a Bishop dressed in White 'we had the impression that it was the Holy Father'. Other Bishops, Priests, men and women Religious going up a steep mountain, at the top of which there was a big Cross of rough-hewn trunks as of a cork-tree with the bark; before reaching there the Holy Father passed through a big city half in ruins and half trembling with halting step, afflicted with pain and sorrow, he prayed for the souls of the corpses he met on his way; having reached the top of the mountain, on his knees at the foot of the big Cross he was killed by a group of soldiers who fired bullets and arrows at him, and in the same way there died one after another the other Bishops, Priests, men and women Religious, and various lay people of different ranks and positions. Beneath the two arms of the Cross there were two Angels each with a crystal aspersorium in his hand, in which they gathered up the blood of the Martyrs and with it sprinkled the souls that were making their way to God."
.../THIRD SECRET/...
Marian Apparitions of the 20th Century
a message of urgency
DVD
Worldwide, reports of apparitions of Jesus and Mary are surfacing. Discover in this award-winning documentary some of the most fascinating apparitions of the 20th century and the urgency of the message Heaven is giving to the world. If men only knew what eternity is, they would do everything in their power to change their lives." Fatima, Portugal Deeply rooted in humanity's history, the Blessed Virgin Mary has been making repeated visitations throughout the world, particularly in the latter part of the 20th century, to warn us that we are on the brink of destruction unless we heed her messages for repentance, prayer, conversion, fasting and reconciliation. Is humanity on the verge of self-destruction? Can the world be delivered from the fear engulfing it today? Meet Father Rene Laurentin, Father Stefano Gobbi, Father Michael McDonagh and Father George Kosicki as they inspire us with their insight on the times we are facing.
DVD Sale Price $14.75
Order Here
Visionaries of Medjugorje made statement that Our Lady told them that God did not divide people, that people divided them self. Is this true?
Words of Jesus:
Do not think that I came to bring peace on Earth; I did not come to bring peace, but a sword. For I came to set a man against his father, and a daughter against her mother, and a daughter-in-law against her mother-in-law; and a man's enemies will be the members of his household. He who loves father or mother more than Me is not worthy of Me; and he who loves son or daughter more than Me is not worthy of Me. And he who does not take his cross and follow Me is not worthy of Me. He who has found his life will lose it, and he who has lost his life for My sake will find it.
(Matthew 10:34–39 NASB)

49 - I have come to cast fire upon the Earth; and how I wish it were already kindled! 50 - But I have a baptism* to undergo, and how distressed I am until it is accomplished! 51 - Do you suppose that I came to grant peace on earth? I tell you, no, but rather division; 52 - for from now on five members in one household will be divided, three against two and two against three. 53 - They will be divided, father* against son and son against father, mother against daughter and daughter against mother, mother-in-law against daughter-in-law and daughter-in-law against mother-in-law.
(Luke 12:49–53)
Mat 24:25 (Phi) "False christs and false prophets are going to appear and produce great signs and wonders to mislead, if it were possible, even God's own people. Listen, I am warning you."
Luke 10:3 (NIV) "Go! I am sending you out like lambs among wolves."
Mat 10:16-17 (Phi) "Here am I sending you out like sheep with wolves all round you; so be as wise as serpents and harmless as doves. But be on your guard against men...
Acts 20: 29-31 (Jer) "I know quite well that when I have gone fierce wolves will invade you and have no mercy on the flock. Even from your own rankstheir will be men coming forward with a travesty of the truth on their lips to induce the disciples to follow them. So be on your guard..."
"And if those days had not been cut short, no one would be saved; but for the sake of the elect those days will be cut short. Then if anyone says to you, 'Look! Here is the Messiah!' or 'There he is!'—do not believe it. For false messiahs and false prophets will appear and produce great signs and omens, to lead astray, if possible, even the elect." - Matthew 24
Latest on former Fr. Tomislav Vlasic - Former advisor to the seers of the alleged Marian apparitions of Medjugorje.
(In 2009 he was laicized after accusations of sexual misconduct.)
On February 11, 2012 Caterina and Vlasic made a video about Central Nucleus, a New Age movement that combines private revelation and Catholic theology with pseudoscience and astrology. Caterina stated that she and Vlasic joined the movement in 2002. The New Age and astrology are forbidden by the Catholic Church.
GODS OF THE NEW AGE - DVD
Best Documentary Film on Satan's New Age Conspiracy
Are We a Victims of Devil
's Deception?
Instructions from Jesus Christ in the New Testament (Bible) on the Last Days and False Prophets:
"And if those days had not been cut short, no one would be saved; but for the sake of the elect those days will be cut short. Then if anyone says to you, 'Look! Here is the Messiah!' or 'There he is!'—do not believe it. For false messiahs and false prophets will appear and produce great signs and omens, to lead astray, if possible, even the elect." - Matthew 24
Shocking: Russian KGB Mind Control Technology involved in Medjugorje Apparitions?
PROPHECY:
"Before the comet comes, many nations, the good excepted, will be scourged by want and famine. The great nation in the ocean that is inhabited by people of different tribes and descent will be devestated by earthquake, storm, and tidal wave. It will be divided and, in great part, submerged. That nation will also have many misfortunes at sea and lose its colonies"
John of Vitiguerro - Thirteenth Century
Revelation 6:15 And the kings of the earth, and the great men, and the rich men, and the chief captains, and the mighty men, and every bondman, and every free man, hid themselves in the dens and in the rocks of the mountains;
Isaiah 2:19 And they shall go into the holes of the rocks, and into the caves of the earth, for fear of the LORD, and for the glory of his majesty, when he ariseth to shake terribly the earth.
People who came back from the death
People who went to Heaven or Hell and came back
MARXIST FUNDAMENTALS by Prof. Libor Brom
You cannot help the poor by destroying the rich.
You cannot strengthen the weak by weakening the strong.
You cannot bring about prosperity by discouraging thrift.
You cannot lift the wage earner up by pulling the wage payer down.
You cannot further the brotherhood of man by inciting class hatred.
You cannot build character and courage by taking away people's initiative and independence.
You cannot help people permanently by doing for them, what they could and should do for themselves.
... Abraham Lincoln
Marianland Catholic World News
YOU DON'T HAVE TO BE DUMB TO BE A CHRISTIAN
and you do not have to be a spiritual vegetable to be a Catholic!
Marianland Catholic World News

Great Book:
Fatima The Great Sign

Padre Pio Re-Visited
New DVD and Video
Video: Medjugorje - the Miracles and the Message
Videos on Padre Pio, Sr. Faustina and Medjugorje
Books and Videos Indexed by Subject
Persecution of Christians Around the World
The Passion of Christ - DVD - Movie of Mel Gibson
Best selling Catholic Videos in English and Spanish Languages
by award winning British film director J. Paddy Nolan
From San Giovanni to Heaven - New Video on Canonization of Padre Pio
The Beatification of Padre Pio - by Award British Film Director J. Paddy Nolan (NewVideo)
The Life of Sister Faustina - The Apostle of Divine Mercy and St. Faustina
Spanish Edition - La Historia De Sor Faustina
Sister Faustina - The Promise of Mercy
The Beatification of Sister Faustina - Join the Celebration
A Celebration of Padre Pio - Pray, Hope, and Don't Worry
Spanish Edition - Homenaje Al Padre Pio
St. Padre Pio - At The Gates of Heaven
Padre Pio's San Giovanni - "I Can Refuse No One"
Medjugorje - The Miracles and The Message
New Video on
Canonization of Padre Pio
Photos from movie "The Passion of the Christ" directed by Mel Gibson
Movie Book: "The Passion"
A very impressive book!
Actual photos from Mel Gibson's film "The Passion of the Christ"
Includes corresponding Scriptural passages, taken from the Douay-Rheims Bible.
Go and spend time with Jesus.
Go see the movie "The Passion of the Christ"!
Pro-Life Videos
Pro-Life Books
Dr. Bernard Nathanson
Social Issues Documentary Videos
Creation vs Evolution
The Creature from Jekyll Island
Devil - Satan
Freemasonry
Gods of the New Age
Global Tyranny
Godless One World Government
Prophecy
Rock/Pop Music, MTV, Hollywood and Satan
Shocking Videos
The UN's Crusade Against God and Family
Videos and Books on Sr. Faustina
plus Diary of Sr. faustina
Videos and Books on Padre Pio
Videos and Books on Medjugorje
and Our Lady Queen of Peace
THE BOOK OF DESTINY By Fr. H.B. Kramer
CATHOLIC PROPHECY THE COMING CHASTISEMENT By Yves Dupont
FORTY DREAMS OF ST. JOHN BOSCO By St. John Bosco
HISTORY OF ANTICHRIST By Fr. P. Huchede
LIFE OF ANNE CATHERINE EMMERICH By V. Rev. C. E. Schmoeger, C.SS.R.
THE PROPHECIES OF ST. MALACHY
PROPHECY FOR TODAY By Edward Connor (compiler)
THE PROPHETS AND OUR TIMES By Fr. R. Gerald Culleton
THE REIGN OF ANTICHRIST By Fr. R. Gerald Culleton
Divine Mercy and St. Faustina and Sr. Faustina (Videos and Books)
Padre Pio (Videos)
Medjugorje - The Queen of Peace (Videos, Books and Audio Tapes)
Prophecy of The Third Secret of Fatima
The Kingdom of the Bride

BIBLES
Text of The Third Secret of Fatima - Complete Report and Message
Books and Videos on Padre Pio
Videos and Books on Sr. Faustina and Divine Mercy and St. Faustina plus Diary of Sr. Faustina
CATHOLIC BIBLES (Family Bibles, Spanish Bibles, Church, School and Study Bible Edidions)
Bishop Fulton Sheen - Audio CDs, Videos and Books
THE DOUAY-RHEIMS BIBLE - Now in Larger Print!
Why Should You Read Only the Douay-Rheims Translation of the Bible?
1 Timothy 2:6. Who gave himself a redemption for all, a testimony in due times.

New Video on Canonization of Padre Pio
Church Supplies
Canonization of Juan Diego of Guadalupe, Mexico
Videos on Padre Pio - English and Spanish
Videos on Sr. Faustina of Divine Mercy and St. Faustina
I Am Your Jesus of Mercy - All 6 Volumes by the Riehle Foundation
True Church and Bible / Catholicism
Bibles by Roman Catholic Publishers
Why Should You Read Only the Douay-Rheims Translation of the Bible?
Bishop Fulton Sheen - Catholic Tapes Cassettes
Videos of Pious Publications
Diary of Sr. Faustina
The Third Secret of Fatima - Complete Text and Report
Holy Pictures / Gifts / Church Supply / Christmas
Vatican Connection / Catechism / Advent
MP3 - Free Catholic Music Samples
Marianland - A Catholic Theme Park
Mother Teresa
Links / Religion / Prayer
MP3 Music Samples
Catholic Christian Music and Songs
"THE SOUNDS OF HEAVEN"
Rafael Brom
Home Page / Statues / Crucifixes / Catholic Resources / Catholic Videos / Catholic Books / Catholic Audio Tapes / Christian Music / Catholic News / Angels / Anti-Semitism / Animated 1 / Animated 2 / Animated - The New Testament / Animated - The Old Testament / Apparitions of Blessed Virgin Mary - Ave Maria - Mother of God/ Apologetics and Jesus Christ / Art Gallery / Audio Tapes / The Beatification of Padre Pio - by Award British Film Director J. Paddy Nolan / Hilaire Belloc / Bible / Bibles / Books on Bible / Bishop Fulton Sheen / Books / Books on Divine Mercy and St. Faustina / A Catholic Theme Park / Children and Youth - Animated / Church Documents / Church History and Protestantism / Creation vs Evolution / The Creature from Jekyll Island / Devil - Satan / Catholic Family Resources / Divine Mercy and St. Faustina / Diary of Sister Faustina / Dr. Bernard Nathanson and Abortion / Errors of Liberalism - Problems of Modern Times / Holy Eucharist and the Mass - Sacraments / Family and Marriage / Fr. Aloysius Ellacuria - American Padre Pio / Freemasonry / Garabandal / Gifts / Gods of the New Age / Global Tyranny / Health / Hell, Heaven and Purgatory / Home Schooling / John Paul II Collection / Joan of Arc / Journeys of the Soul / Latest Message / Marianland / Marian / Marian Videos / Mariology / Charismatic - Holy Spirit / Marx and Satan / Medjugorje Miracles and the Message - Queen of Peace - Queen of Peace - Virgin Mary / Miracles in Catholic Church / Money System / Mother Teresa / Music / MP3 - Free Music Samples / Yoga / Godless One World Government / Padre Pio (Videos) / Padre Pio (Books) / Pious Publications / The Priesthood / Pro-Life Videos and DVD / Pro-Life Books / Antichrist - Prophecy - Prophecies and Anti-Christ - Last Days / Prophecy of The Third Secret of Fatima / Rafael's Art Gallery / Prof. Libor Brom / Religious Education-Adult / Religious Education-Grade School / Religious Education - High School / Rock/Pop Music, MTV, Hollywood and Satan / ROSARY / Saints Part 1 / Saints Part 2 / Saints Part 3 / St. Patrick Apostle of Ireland / Scott Hahn, Kimberly Hahn, Bishop Sheen / Shocking Videos / Spanish Videos / Spiritual Life / Sr. Faustina / Stigmata and Stigmatists / Theology / True Church and Bible / The UN's Crusade Against God and Family / Vatican II / Videos - Main Section / J. Paddy Nolan / Wayne Weible - Medjugorje Apparitions - Medjugorje / Latest news / Sin and Repentance / Fr. Faber / Marian Videos and DVD Videos as Seen on EWTN - Catholic TV Network by Mother Angelica / Mother Teresa /

Prophecy of Pope Blessed Pius IX (1846 - 1878)
"There will come a great prodigy, which will fill the world with awe. But this prodigy will be preceded by the triumph of a revolution during which the Church will go through ordeals that are beyond description."
And he said to them: Go ye into the whole world, and preach the gospel to every creature. - Mark 16:15
Mailing Address:
Center for the Queen of Peace
2951 Marina Bay Drive, Suite 130 - PMB 501
League City, Texas 77573-2733