Abortion Facts, Abortion Information
and
Educational Videos Against Abortion
Procedure Videos and DVDs

The Abortion Matrix:
Defeating Child Sacrifice and the Culture of Death
DVD
Region: Playable in All Regions
Item #: 1-TAM-DVD
only: $24.95
Click Here To Order
... I was stunned by the historical and biblical presentation of blood guilt and who is most responsible for the abortion holocaust savaging our land. The truth it reveals is horribly convicting, and the solution it gives surprisingly and wonderfully simple. Abortion will come to an end in America when the Church of Jesus Christ makes up her mind it will come to an end, and not one second sooner Flip Benham - Founder, Operation Save America
Is there a connection between pagan religion and the abortion industry?

This powerful presentation traces the biblical roots of child sacrifice and then explores the social, political and cultural fall-out this sin against God and crime against humanity has produced in our amoral, increasingly pagan society.

Conceived as a sequel and update to the 1988 classic, The Massacre of Innocence, the new title, The Abortion Matrix, is entirely fitting. It not only references abortion specific target ? the sacred matrix where human beings are formed in the womb in the very image of God? but it also implies the existence of a conspiracy, a matrix of seemingly disparate forces that are driving this holocaust.
The occult activity surrounding the abortion industry is exposed with numerous examples. But are these just aberrations, bizarre yet anomalous examples of abortionists who just happen to have ties to modern day witchcraft? Or is this representative of something deeper, more sinister and even endemic to the entire abortion movement?
As the allusion to the film of over a decade ago suggests, the viewer may learn that things are not always as they appear to be. The Abortion Matrix reveals the reality of child-killing and strikes the proper moral chord to move hearts to fulfill the biblical responsibility to rescue those unjustly sentenced to death and to speak for those who cannot speak for themselves (Proverbs 24:11,12; 31:8,9).
Product Details
Written by: Jay Rogers and
Produced and Directed by: Jay Rogers with James Gelet
Hosted by:
Interviewees Include: George Grant, Peter Hammond, RC Sproul Jr., Paul Jehle, Lou Engle, Rusty Thomas, Flip Benham, Janet Folger and many more.
Format: Color, DVD, NTSC, Full Screen
Language: English
Region: All Regions
Number of discs: 1
Rating: Not Rated
DVD Release Date: 2011
Run Time: Approximately 165 minutes
Item #: 1-TAM-DVD
only: $24.95
Click Here To Order
180 MOVIE
(PRO-LIFE DOCUMENTARY)
DVD
From Hitler and the Holocaust to Roe vs. Wade and 50+ million dead babies. 33 minutes that will rock your world!
Product Description
I give my unflinching, joyful, trembling Yes to 180. Unflinching, because itis right. Joyful, because itis good. Trembling, because this our defeated enemy is still vicious. John Piper - Pastor for Preaching and Vision, Bethlehem Baptist Church
Ray Comfort and team at their most inspired and inspiring best! ,
There are few issues more divisive than abortion. And as any thoughtful pro-lifer who has ever engaged in conversation with people who are pro-choice (except for the child) knows, the arguments they use are tissue-paper thin and often contradictory and even irrational. In this fascinating video, Ray Comfort gives the viewer a lesson on Hitler and the Holocaust while revealing the startling ignorance of history that many young people now possess and then winsomely and powerfully ties it into abortion. Working with a broad section of everymen (including one neo-Nazi) on the streets of southern California, both they and the viewer are brought to the inevitable, inescapable conclusion: that the only way a person can support abortion is to also support Hitler and the holocaust. POWERFUL! Great for high school and college students.
180 completely caught me by surprise. The about-faces on abortion were hard to believe until I saw the full video for myself. Ray lays the right foundation, then asks only one question that stops pro-choicers in their tracks and turns the tables. Itis the Colombo Tactic at its finest. Gregory Koukl President Stand to Reason
Item #: SKU: 00047
DVD Price: $19.95
Click Here To Order

Eclipse of Reason
DVD
...this film is needed to ignite the fires of outrage Cal Thomas, syndicated columnist

...disturbingly stark and may prove harder for critics to dismiss as misleading Newsweek Magazine

Introduced by Charlton Heston, Academy Award-winning actor and conscientious citizen who is well-known for taking an active role in community and film industry affairs. He urges the news media which he charges with failing badly to inform the public on the abortion issue to honestly consider and then address the information presented by the film ECLIPSE OF REASON in order to promote a better informed public.

Choice after all is meaningless unless the chooser has a grasp of all the facts.

This film was produced by Bernard Nathanson, one-time abortionist and leader of the nascent pro-choice movement, and documents the intra-uterine life of a little boy at 5 months of age as seen through a fetoscope - a camera placed inside the pregnant uterus. Riveting images of a late abortion are then shown with a camera both inside and outside the uterus. Consistently verifiable statistics emphasize that this horror killing a child at this stage of development and beyond takes place 400 times a day in the United States.




In addition, there are deeply moving interviews with the other victims of abortion: women who have been irreparably injured by abortion - both physically and emotionally.

Dr. Nathanson's logic and documentation utterly destroy the pro-abortion arguments US Senator Gordon Humphrey

Product Details
Format: Color, NTSC
Language: English
Region: Region Free
Studio: American Portrait Films
DVD Release Date: January 22, 1984
Run Time: 27 minutes
Menu with scene selection
Awards: 1987 CHRIS PLAQUE AWARD, INTERCOM CERTIFICATE OF MERIT, INTERNATIONAL FILM AND TV FESTIVAL OF N.Y. FINALIST
Item #: EOR-DVD
DVD Price: $24.94
Click Here To Order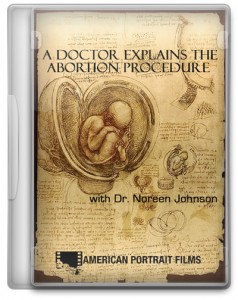 A DOCTOR EXPLAINS THE ABORTION PROCEDURE
DVD
Dr. Noreen Johnson, a former abortionist and now a practicing obstetrician, calmly, clearly and with scientific precision explains exactly what people choose when they decide to have an abortion.
Product Description
The struggle to stop legalized child-killing (abortion) in America and around the world calls for all kinds of people, all manner of giftings and a variety of strategies all non-violent, of course. This wonderful film shows the power of simply using the truth about abortion as a medical procedure to effectively turn many away from it. An effective antidote to the cloaking strategy of Planned Parenthood and other abortifiers. ,
Dr. Noreen Johnson, a former abortionist and now a practicing obstetrician, calmly, clearly and with scientific precision explains exactly what people choose when they decide to have an abortion. Each termination option is discussed along with the associated risks and benefits. Ultra sound pictures and computer animation help to answer common questions. The terms fetus, products of conception, placenta, uterus, etc. are fully explained.
The average viewer will invariably find themselves disturbed by the facts, the potential risks and the inherent violence of the procedure.
Neutral wording enables you to bring the truth about abortion to individuals, schools and various audiences where a religious perspective or an overt pro-life approach might not be either allowed or appreciated.
After all, choice is meaningless without a clear understanding of all the facts, isnt it?
Item #: SKU: 00048
DVD Price: $19.95
Click Here To Order


ASSIGNMENT LIFE:
A REPORT ON ABORTION IN AMERICA
DVD
NOW AVAILABLE ON DVD: The classic 1983 film that explores the abortion issue from an investigative reporteris perspective.
Product Description
Weare thrilled to be able to make this classic pro-life film available again. May God use it to help women considering abortion to learn the unvarnished truth about this common but incredibly obfuscated procedure. ,
In 1983, journalist Ann Sommers went on a journey to uncover the facts and the real-life implications of abortion. She interviewed doctors, post-abortive women, psychologists, abortionists, clergymen and a member of congress. She then witnessed an actual abortionfollowed by a live birth.

As the viewer follows her investigation, they learn the facts about abortion and crisis pregnancies; truths that many people are trying to hide.

Contains more interviews than in the edited classic, A Matter of Choice.
Item #: SKU: 00049
DVD Price: $19.95
Click Here To Order
GENERATION KILL FOUR PRO-LIFE VIDEOS
DVD
Four classic pro-life films on one DVD covering a range of subjects from an abortionistis dayto fetal experimentation. With Dr. Jack Wilkie
Product Description
An important series that every advocate for the pre-born needs to watch and share. Jay Rogers, The Forerunner

FOUR PRO-LIFE VIDEOS ON ONE DVD!

Special Note: These videos were originally recorded back in late 80's so the video quality and clothing/hair-styles are dated. But the content remains compelling and relevant.

1. Pro-life Doctors Speak Out A discussion of the essential medical arguments against abortion, featuring John Wilke, M.D.; Bernard Nathanson, M.D. (and ex-abortionist) and Surgeon General C. Everett Koop

2. Death on Demand: An Abortionistis Day In one of the most chilling videos ever produced on the abortion issue, an abortionist matter-of-factly talks about his work and unwittingly reveals the monstrosity of this most unmedical of procedures.
3. The Miracle of Ultrasound Dr. Wilke explains the ultrasound procedure and its amazing window to the womb. Watching this video, it becomes obvious why the so-called pro-choice movement has fought so hard to stop laws that would require women to watch an ultrasound of their baby so that they can better make a truly informed choice.

4. Living Experiments Never again! was the cry after the Nazi atrocities came to light. But in this chilling video, Dr. Wilke exposes how the pre-born are the new non-persons and can even be made the victims of the most callous medical experimentation.
Item #: SKU: 00055
DVD Price: $19.95
Click Here To Order
THE SILENT SCREAM RE-MASTERED, MULTI-LANGUAGE
DVD
DVD Price: $24.95
Click Here To Order
The classic film that many consider to be a launching point for the modern pro-life movement.
Product Description
When the lives of the unborn are snuffed out, they often feel pain, pain that is long and agonizing. President Ronald Reagan to National Religious Broadcasters Convention, January 1981

Ronald Reagan became convinced of this as a result of watching The Silent Scream a movie he considered so powerful and convicting that he screened it at the White House.

More recently, it was by catching just a glimpse of what this film reveals that Planned Parenthood director and abortion advocate Abby Johnson turned and became a strong advocate for the pre-born.

SYNOPSIS: The modern technology of real-time ultrasound now reveals the actual responses of a 12-week old fetus to being aborted.

As the unborn child attempts to escape the abortionistis suction curette, her motions can be seen to become desperately agitated and her heart rate doubles. Her mouth opens as if to scream but no sound can come out.

Her scream doesn't have to remain silent, howevernot if you will become her voice.

This powerful expos on the true horrors of abortion is narrated by Dr. Bernard M. Nathanson, who earlier in his career ran the worlds largest abortion clinic. Now ardently pro-life, Dr. Nathanson is dedicated to exposing the truth about abortion on demand.

SPECIAL NOTE: This newly re-mastered version features eight language tracks (see below for listing) and two bonus videos: The Answer (Bernard Nathanson's response to the critics of Silent Scream) and Choice Blues a short video produced by the Center for Bioethical Reform that powerfully exposes the brutality of abortion.

a high technology Uncle Tom's Cabin arousing public opinion just as Harriet Beecher Stowe's 1852 antislavery novel ignited the abolitionist movement. Sen. Gordon Humphrey, Time Magazine DVD 28 min.
Hard Truth
DVD
DVD Price: $19.95
$14.75
Click Here To Order
The pro-life classic that has shattered the apathy of thousands and has help inspire multitudes to get involved in pro-life ministry.
Product Description
See this video in order to understand why this issue will not disappear a pro-life weapon of unprecedented might. Tom Minnery, Vice-President for Public Policy, Focus on the Family
A powerful educational video! Pat Robertson, 700 Club
In almost thirty years of fighting abortion in eighty-four countries, I have never seen a more effective tool in opposing the baby-killers. Everyone must see Hard Truth. Fr. Paul Marx, Human Life International
I honestly have never seen anything quite so powerful or quite so anointed. George Grant, author of Grand Illusions: The Legacy of Planned Parenthood
Hard Truth shatters the myth of choice.Carol Everett, Founder, Life Network
Hard Truth The famous (some would say infamous) video produced by Gregg Cunningham (The Center for Bioethical Reform) and (Reel to Real Ministries) and featuring Kemper Crabb's powerful and genre-bending song Malediction. Hundreds of thousands of these videos have gone around the world.
Featured on CBS 48 Hours, this music video has the potential to change even the most hardened pro-abortionist. Powerful visual evidence proves abortion is murder. See conception take place in-utero and then witness the absolute reality of abortion; all this set to the most anointed pro-life song ever written Kemper Crabb's Malediction. Warning: Very strong content; viewer discretion is advised.
DVD 9.5 min.
The Massacre of Innocence
DVD
DVD Price: $19.95
$19.95
Click Here To Order
A two-part documentary. Part One examines the history of abortion, its sociological and medical evolution, and fraudulent claims of abortion proponents. Part Two is a rare exploration of the spiritual forces behind abortion, its roots in child sacrifice, feminist goddess worhip, and witchcraft. Clearly demonstrates that abortion is more than a matter of public policy, since spiritual forces fuel its continuance.
At last, a presentation that ties up loose ends and looks at the spiritual realities behind abortion. Well-done, incisive and propheticevery Christian needs to watch it. Gary Bergel, Executive Director Intercessors for America
The classic pro-life documentary that has helped change thousands of lives, save only God knows how many babies, open eyes and hearts, and inspire prayer, activism, the creation of crisis pregnancy clinics and all manner of pro-life activity around the world.
The Massacre of Innocence looks at the spiritual roots of abortion and exposes the myths surrounding child-killing. Little known historical facts about abortion, drawn from both the scriptures and occult history, establish the links between pagan child sacrifice, witchcraft and our modern, technocratic form of pregnancy termination. Though produced in 1985, this video remains the definitive work on the spiritual roots of abortion and has not only been effective in converting many to a pro-life position; it has helped launch a number of pro-life ministries. The section on the travail of child-birth and restitution has also been helpful in bringing healing to women who have had abortions.
Now for the first time on DVD; digitally re-mastered from the original source tape.
By . DVD 85 min.
THE RIGHT TO KILL
DVD
As the baby boom generation ages, technology advances and pressures continue to build on the health care system, this fascinating film on euthanasia raises a number of profound issues that are becoming more relevant by the day.
Product Description
quintessential William F. Buckley in the classic, must-see documentary on the issue of euthanasia. ,
CAN ILLNESS, AGE OR JUST WANTING TO DIE JUSTIFY KILLING?

Is so-called mercy killing a blessing which society needs to meet these needsor it just a open-door to a new holocaust?

These thought provoking questions are explored in depth by William F. Buckley in the compelling docu-drama, THE RIGHT TO KILL. In it you will see a real example of euthanasia a woman in the Netherlands killed by an injection of curare. You will hear from a notable group of experts in medicine, law, philosophy and religion including:
The founder of the Hemlock Society
Physicians performing euthanasia in Holland
The author of The Humane and Dignified Death Act
Doctors specializing in pain management
Expert in the Nazi Holocaust
The founder of England's hospice movement

As the baby boom generation ages, technology advances and pressures continue to build on the health care system, this fascinating film raises a number of profound issues that are becoming more relevant by the day.
SKU: 00054
DVD Price: $19.95
Click Here To Order
TOP PRO-LIFE CATHOLIC VIDEOS, BOOKS AND AUDIO TAPES
Pro-Life Catholic Christian Videos, DVD and Books
BEYOND ABORTION A Chronicle of Fetal Experimentation By Suzanne Rini
CLOSED--99 WAYS TO STOP ABORTION By Joseph M. Schiedler
IS THE FETUS HUMAN? By Eric Pastusek
LIFE OF BL. MARGARET OF CASTELLO By Fr. W. R. Bonniwell
PRO-LIFE CHRISTIANS HEROES FOR THE PRE-BORN
Catholic Pro Life Books, Tapes, CDs, DVDs, Videos
Catholic Christian Pro-Life Audio Cassette Tapes
List of All Christian Educational Videos and DVDs
Pro-life, Abortion Procedure, Crisis Pregnancy Counseling, Heart-changing, Teen Abortion,
Creation vs Evolution, Geology, Biology, Teen Issues, Music, Teen Sexuality,
Hollywood, Pop Cultur, America's Godly Foundation, Children's Videos, End Times and New Age,
Entertainment, Evangelistic, Holy Land, Spanish, Special Interest
CREATION vs EVOLUTION and PRO-LIFE VHS VIDEOS
Best Selection of Christian Educational VHS Videos and DVDs
Greater Vision - Back From Abortion
Abortion Facts, Abortion Information, and Educational Videos Against Abortion
The Massacre of Innocence - DVD
A Doctor Explains the Abortion Procedure - DVD
Teen Sex: Reality Strikes Back - DVD
Sex As God's Gift (With Printed Curriculum)-DVD
Holly's Story: A Journey To Freedom And Hope-DVD
Life: It's A Gift And A Class Project-DVD
Love is a Choice - The Life of St. Gianna Molla
Amazing Grace For Those Who Suffer
Book on Tape by JEFF CAVINS, MATTHEW PINTO
THE REIGN OF ANTICHRIST
Shocking speech of Fr. John O'Connor
DVD
(2 Hrs Long)

Most complete report on Anti-Christ ever made. Shocking speech of Fr. John O'Connor. Fr. O'Connor shows how we will be able to recognize the Anti-Christ through Bible and Current Events, that he is alive and prepared to enter world seen, about infiltration of Catholic Church, about the New World Order, end of US independence, One World Socialist Atheist Government, Wars, Paper Money, Homosexual infiltration of the Catholic Church, Our near Future, How to prepare our self for persecution and more ... Must see. Best Seller.
(DVD 2hrs) ...........$ 19.95
Click Here to Order
New Record Album:
Refugee from Socialism by Rafael Brom
THE REIGN OF ANTICHRIST
Shocking speech of Fr. John O'Connor
DVD
(2 Hrs Long)

Most complete report on Anti-Christ ever made. Shocking speech of Fr. John O'Connor. Fr. O'Connor shows how we will be able to recognize the Anti-Christ through Bible and Current Events, that he is alive and prepared to enter world seen, about infiltration of Catholic Church, about the New World Order, end of US independence, One World Socialist Atheist Government, Wars, Paper Money, Homosexual infiltration of the Catholic Church, Our near Future, How to prepare our self for persecution and more ... Must see. Best Seller.
(DVD 2hrs) ...........$ 19.95
Click Here to Order
True Professionals - Political Cartoon on Liberals:
http://www.marianland.com/marxism/trueprofessionals.html
Gay and Lesbian Sodomites vs Marriage

THE BOOK OF DESTINY By Fr. H.B. Kramer
CATHOLIC PROPHECY THE COMING CHASTISEMENT By Yves Dupont
FORTY DREAMS OF ST. JOHN BOSCO By St. John Bosco
HISTORY OF ANTICHRIST By Fr. P. Huchede
LIFE OF ANNE CATHERINE EMMERICH By Rev. C. E. Schmoeger, C.SS.R.
THE PROPHECIES OF ST. MALACHY
PROPHECY FOR TODAY By Edward Connor (compiler)
THE PROPHETS AND OUR TIMES By Fr. R. Gerald Culleton
THE REIGN OF ANTICHRIST By Fr. R. Gerald Culleton
Divine Mercy and Sr. Faustina (Videos and Books)
Padre Pio (Videos)
Medjugorje - The Queen of Peace (DVD Videos, Books and Audio CDs)
Prophecy of The Third Secret of Fatima
The Kingdom of the Bride
BIBLES
Books and Videos on Padre Pio
Videos and Books on Sr. Faustina and Divine Mercy plus Diary of Sr. Faustina
CATHOLIC BIBLES (Family Bibles, Spanish Bibles, Church, School and Study Bible Edidions)
Bishop Fulton Sheen - Audio Tapes, Videos and Books
THE DOUAY-RHEIMS BIBLE - Now in Larger Print!
Why Should You Read Only the Douay-Rheims Translation of the Bible?
2 Corinthians 1: 9. But we had in ourselves the answer of death, that we should not trust in ourselves, but in God who raiseth the dead.

New DVD on Canonization of Padre Pio
Church Supplies
Canonization of Juan Diego of Guadalupe, Mexico
Videos on Padre Pio - English and Spanish
Videos on Sr. Faustina of Divine Mercy
I Am Your Jesus of Mercy - All 6 Volumes by the Riehle Foundation
True Church and Bible / Catholicism
Bibles by Different Roman Catholic Publishers
Why Should You Read Only the Douay-Rheims Translation of the Bible?
Bishop Fulton Sheen - Catholic Tapes Cassettes
Videos of Pious Publications
Diary of Sr. Faustina
Holy Pictures / Gifts / Church Supply / Christmas
Vatican Connection / Catechism / Advent
MP3 - Free Music Downloads
Marianland - A Catholic Theme Park
Mother Teresa
Links / Religion / Prayer
Will Prophecy of Garabandal fulfill this year?
The Reign of the Antichrist - DVD
The Reign of Antichrist - Book
Full Text of the Third Secret of Fatima not revealed?
In a 1980 interview for the German magazine Stimme des Glaubens published in October 1981, John Paul II was asked explicitly to speak about the third secret. He said: Because of the seriousness of its contents, in order not to encourage the world wide power of Communism to carry out certain coups, my predecessors in the chair of Peter have diplomatically preferred to withhold its publication. On the other hand, it should be sufficient for all Christians to know this much: if there is a message in which it is said that the oceans will flood entire sections of the earth; that, from one moment to the other, millions of people will perish... there is no longer any point in really wanting to publish this secret message. Many want to know merely out of curiosity, or because of their taste for sensationalism, but they forget that 'to know' implies for them a responsibility. It is dangerous to want to satisfy one's curiosity only, if one is convinced that we can do nothing against a catastrophe that has been predicted. He held up his rosary and stated Here is the remedy against this evil. Pray, pray and ask for nothing else. Put everything in the hands of the Mother of God. Asked what would happen in the Church, he said: We must be prepared to undergo great trials in the not-too-distant future; trials that will require us to be ready to give up even our lives, and a total gift of self to Christ and for Christ. Through your prayers and mine, it is possible to alleviate this tribulation, but it is no longer possible to avert it, because it is only in this way that the Church can be effectively renewed. How many times, indeed, has the renewal of the Church been effected in blood? This time, again, it will not be otherwise. We must be strong, we must prepare ourselves, we must entrust ourselves to Christ and to His holy Mother, and we must be attentive, very attentive, to the prayer of the Rosary.
Lcia herself is reported to have explicitly stated that the Third Secret contains Apocalyptic content. According to one source, when Lcia was asked about the Third Secret, she said it was in the Gospels and in the Apocalypse, and at one point she had even specified Apocalypse chapters 8 to 13, a range that includes Apocalypse 12:4, the chapter and verse cited by Pope John Paul II in his homily in Fatima on 13 May 2000.
A news article quoted former Philippine ambassador to the Vatican, Howard Dee, as saying that Cardinal Ratzinger had personally confirmed to him that the messages of Akita and Fatima are essentially the same.
A TERRIBLE WARNING - THE MESSAGE OF OUR LADY OF AKITA, JAPAN: The third message on October 13, 1973, the actual anniversary of the final visions and miracle of Fatima is as follows: As I told you, if men do not repent and better themselves, the Father will inflict a terrible punishment on all humanity. It will be a punishment greater than the deluge, such as one will never have seen before. Fire will fall from the sky and will wipe out a great part of humanity, the good as well as the bad, sparing neither priests nor faithful. The survivors will find themselves so desolate that they will envy the dead. The only arms which will remain for you will be the Rosary and the Sign left by my Son. Each day, recite the prayers of the Rosary. With the Rosary, pray for the Pope, the bishops and the priests. The work of the devil will infiltrate even into the Church in such a way that one will see cardinals opposing cardinals, and bishops against other bishops. The priests who venerate me will be scorned and opposed by their Confreres. The Church and altars will be vandalized. The Church will be full of those who accept compromises and the demon will press many priests and consecrated souls to leave the service of the Lord.
From Congregation for the Doctrine of the Faith in Vatican
Text of The Third Secret of Fatima:
COMPLETE TRANSLATION OF ORIGINAL TEXT
VATICAN CITY, JUN 26, 2000 (VIS) - Given below is the complete translation of the original Portuguese text of the third part of the secret of Fatima, revealed to the three shepherd children at Cova da Iria-Fatima on July 13, 1917, and committed to paper by Sr. Lucia on January 3, 1944:
"I write in obedience to you, my God, who command me to do so through his Excellency the Bishop of Leiria and through your Most Holy Mother and mine.
"After the two parts which I have already explained, at the left of Our Lady and a little above, we saw an Angel with a flaming sword in his left hand; flashing, it gave out flames that looked as though they would set the world on fire; but they died out in contact with the splendor that Our Lady radiated towards him from her right hand: pointing to the earth with his right hand, the Angel cried out in a loud voice: 'Penance, Penance, Penance!'. And we saw in an immense light that is God: 'something similar to how people appear in a mirror when they pass in front of it' a Bishop dressed in White 'we had the impression that it was the Holy Father'. Other Bishops, Priests, men and women Religious going up a steep mountain, at the top of which there was a big Cross of rough-hewn trunks as of a cork-tree with the bark; before reaching there the Holy Father passed through a big city half in ruins and half trembling with halting step, afflicted with pain and sorrow, he prayed for the souls of the corpses he met on his way; having reached the top of the mountain, on his knees at the foot of the big Cross he was killed by a group of soldiers who fired bullets and arrows at him, and in the same way there died one after another the other Bishops, Priests, men and women Religious, and various lay people of different ranks and positions. Beneath the two arms of the Cross there were two Angels each with a crystal aspersorium in his hand, in which they gathered up the blood of the Martyrs and with it sprinkled the souls that were making their way to God."
.../THIRD SECRET/... VIS 000626 (380)
Home Page / Statues / Crucifixes / Catholic Resources / Catholic Videos / Catholic Books / Catholic Audio Tapes / Christian Music / Catholic News / Angels / Anti-Semitism / Animated 1 /